Men who wear pink!
Athletes, sports functionaries and fans often actively support good causes. October is usually reserved for support and fight against breast cancer. Therefor pink was the color of choice and a weapon against the dreaded illness.
Giroux and Briere in pink
Claude Giroux and Danny Briere decided to go along with their team's effort and after getting pink Warrior gloves, they donned pink jerseys of their Lockout team Eisbaren Berlin. Pink Bears, sounds... nice.
Good job guys!
Another team that supported this cause were Zagreb Bears, Croatian national champions playing in EBEL league.
KHL Medvescak Zagreb's laces against breast cancer (Photo: Igor Šoban)
Pregame warmup in pink (Photo: Igor Šoban)
Bears decided to support the cause by changing all the laces during October into pink ones. And boy do those look cool.
And now, something completely different!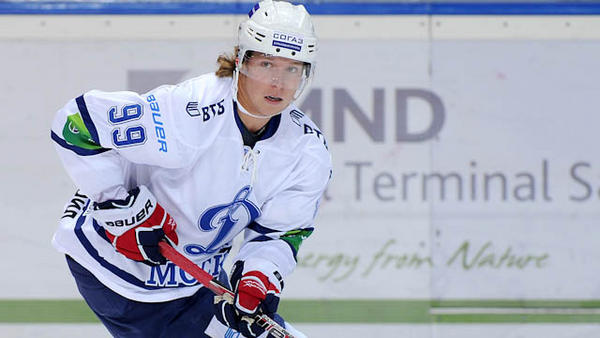 Niclas Backstrom is another player that moved overseas and joined a KHL team during NHL lockout. 20 or so years after Cold War ended, Backstrom moves from Washington to Moscow and joins his former / current / future teammate Ovechkin in UHC Dynamo Moscow. 2006. first round draft pick decided to spice up the lockout talks by taking a jersey with #99 to play with in KHL.
We all know #99 is retired NHL-wide in honor of the Great One, Wayne Gretzky. Backstrom is certainly a great player, but does he deserve this jersey? Time will tell. Is it a great public relations pull? Certainly.


Nicklas Backstrom made his KHL debut Monday wearing jersey No. 99 for Dynamo Moscow. (Photo: @plysenkov)
Lost boys found... in Czech republic!
On
Sunday
we reported Simmonds and Stewart driving somewhere towards Czech and into sunset after they decided to ditch Eispiraten Crimmitschau. The crazy boys decided to continue their Euro Trip playing for White Tigers of Liberec in Czech Extraliga.
The Pirates from Crimmistchau didn't wait too long for their substitutions. On monday they signed a promising and hard working player Ned Lukacevic for a tryout period and then today they bombed us by signing Toronto Maple Leaf forward Clarke MacArthur for a month. Not bad.
Clarke MacArthur of Maple Leafs throwing hands in the air like he believes
Hopefully MacArthur, just like Sam Gagner, will help his team in securing a playoff spot. If lucky they might even play in them. For the first time. In like.. thousand years.
Game night tonight!
From Winnipeg to Salzburg for Toby!
EBEL has two games going on tonight, HDD Telemach Olimpija (with Mursak) welcomes a really bad team with Andy Nodl, HC Innsbruck. KHL Medveščak Zagreb (with Dustin Jeffrey of Pittsburgh Penguins) are hosts to Hungarian team Sapa Fehervar AV19 tonight at 19:15 (GMT +1)
LIVE
.
In meantime, EC Red Bull Salzbrug decided to throw even more money around. After signing Austrian goalie
Bernd Brückler
(@brucks30), who will wear #26 and probably push former NHL goalie Alex Auld out of the crease.
With relatively bad Auld in goal getting a better substitution, Red Bull decided to sign Tobias Enström. Maybe they'll finally manage to get some fans to their games now. Probably wont, but who cares, they're Red Bull.
Go Jets go! I mean, go Bears go!