We got ourselves a season. Europe is feeling better, KHL is still crying over Ovi, Malkin and not sure about Kovi. But hey, its not first time best and brightest are running out of USSR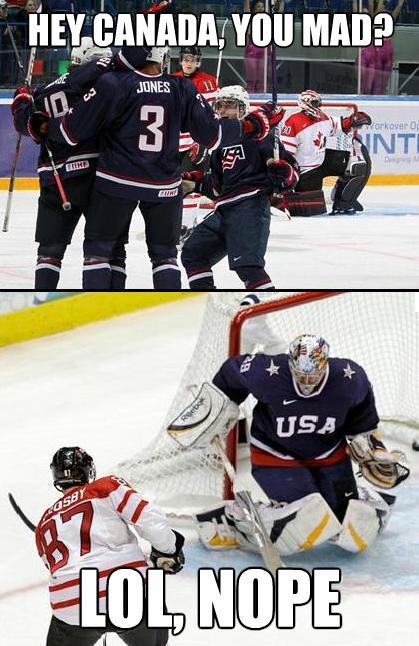 Also, USA beat Canada. Then Canada got mad. And Don Cherry almost got a heart attack. Poor man, getting so excited over nothing. Lets pretend we cared and lets go on.
So, as we wait for hockey for another week or so, lets preview what happened so far in #Europe
1. Erste Bank Eishockey Liga (EBEL in Austria and surrounding countries) had its share of linking and popularity thanks to a nice guy playing for Olimpija Ljubljana,
Mike Ratchuk
. Over a million views total, not bad man, and nice goal. Feel poor for the kid goalie.
2. Then Patrick Kane went to dangle a bit around Corey Schneider in Swiss. Showoff mostly, and a battle of nerves. Kane won. Woooot.
3. And finally it was time for good old Pavel Datsyuk to teach these kids a lesson. In a KHL game shootout he decided to add a new move. Check out this:
4. But nothing can top Ilya Kovalchuk. I'm sure there are lots of guys on Devils' team that are sweating and swearing just watching this pure art. Спасибо Илье
What can you say? I'm sure lots of these Locked-out guys had fun in Europe. In USA and Canada its all just work. Most of these guys have had first Xmas off since way before they were even drafted. Most of them worked out, enjoyed the Europe for first time.
Dustin Jeffrey selling Xmas cards for Medvescak partner UNICEF
Just think of guys like Dustin Jeffrey, who worked hard to get into a star filled Pens roster. And had first Christmas off. He decided to spend it with his family and friends in Canada.
Michael Grabner got a chance to play for his childhood team, EC VSV in same league as Jeffrey. Guys made him such a sweet video, wonder if he got a mix tape as well? Villach is so cute I just cuddle them all together. Also you can see how awesome Grabner's beard got over time.
Rumours are Grabner's beard got sentient and he had to remove it upon landing on US soil. Or something like that.
Tyler Myers as a farewell gift got a pounding by Nathan Perkovich. 203cm vs 196cm and 10s fight. But was nice. Notice the screams in the arena. Hi Becky.
And another POV with a camera guy having a great feeling of the game: http://www.youtube.com/watch?v=80LNkJ6o-50
Damn he must be proud.
Anyways, thats it guys. Lockout is over, tears over new fan favorites have been shed, and we're off to see another, very short, NHL season. Go draft your fantasy teams, set up your leagues and we're off to go.
And Gagner's team is doing great since he left. They might even get to playoffs now. Which is unlikely for Edmonton Oilers.
Burke who?