And there is nothing we can do.
Third month of 2012/13 NHL owner imposed player lockout is looming. Both parties have presented proposals, counter proposals, withdrew proposals and refused to move from their positions. Both parties wish to bring the public and fans on their side. But fans, media and public do have a single standpoint in common: they want to see the game played at the highest level.
RIP David Courtney
But with all these big players, team owners, managers and agents either arguing or looking for job for their clients overseas, fans pay the ultimate price. Without fans the League is nothing. Just like Phoenix. But these guys are not the only ones at loss now.
Recently deceased 22 season long LA Kings PA announcer David Courtney had a job regardless of Lockout. He was the voice of LA Clippers, Angels and Kings so he still had a job when NHL decided they won't play any games yet.
Many other arena and facility workers are now without work. No games, no announcements, no facility maintenance, some places don't even have ice on. Garry Bettman, you didn't just lockout players, you lost a lot of people their livelihood. Get it rolling and take some cuts, be a man in this sport. Its a game of men and honour. Tge greatest game on planet.
While Gary, Don, mediators or not, stop playing. We want to watch hockey, not lawyers and managers fighting over money fans and sponsors throw at your face. For a reason. To watch hockey.
And here is the Class of 12/13 NHL Lockout: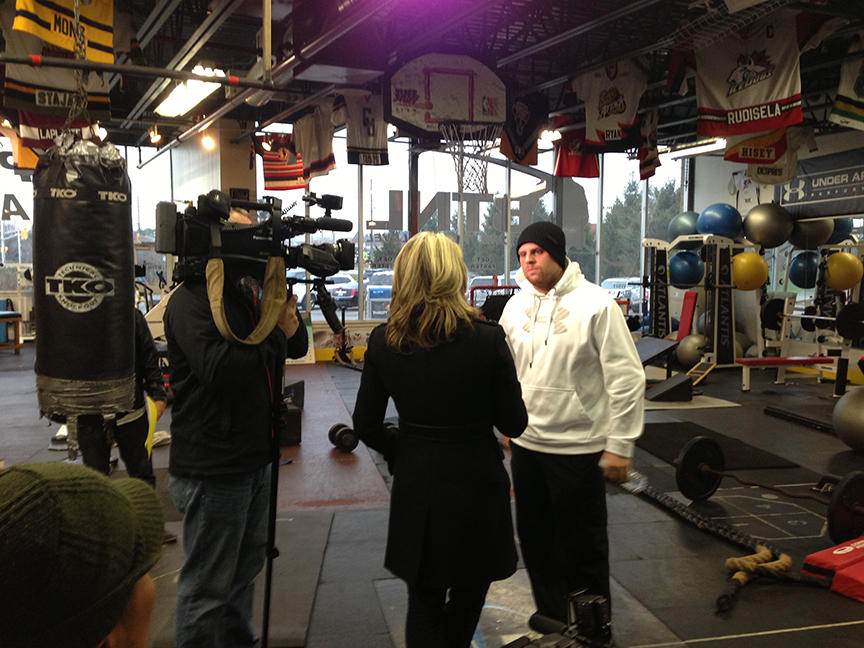 Phil Kessel (@BTNL) doing interview for Sportsnet
Hiding in a world class gym and ice rink the Class of 12/13 Lockout spends their days working out, getting ready and pleasing the not-so-small crowd that gathers at every practice.
Beyond the next level
training facility is run by a guy living the dream. With big players working hard in the great facility under professional care Mr. BTNL (Dan Ninkovich @DeejBTNL) is doing a real work during the days of Lockout.
It all started with a few players reporting in at the start of lockout for a regular gym sessions, some skating time and dangling the puck while the few days the lockout was supposed to last pass.
These days you can see running around the gym PK Subban, Kessel, Kaberle, Clarkson, Mason, Winnick,
many other younger prospects, and many, many fans enjoying a beer while watching their stars skate, play a dummy game or just work out.
Dan, you're doing the job NHL can't. You're making the players stay fit and ready for fans. Keep up the work and lets see you play some shiny with the boys! We're watching.
What else to do when there's no games?
Many players have headed over the seas. Some are in Europe, some in Russia, some are still at home working out. Over the past weeks I've written about numerous players in my "home" league, and since last update there were a few more additions. After Boychuk in Red Bull, the bulls signed
Rob Schremp
. Why you ask?
I think this is a good enough answer. Then they signed an NHL duo Derick Brassard and Derek Dorsett. And in their first game, they won! Atta boys! Schrimp boy added 4 assists, Brassard scored and assisted, while Boy-chuk was there too. So happy.
From left to right three guys making a living in Salzburg after Gary fucked up NHL season
(Brassard, Schremp, Dorsett)
Rest of the guys aren't noteworthy so far. Gagner is skating in Klagenfurt, Myers is there for company and with roughly 35 TOI, while Bickell can't get his team on a winning track in Znojmo, Czech. Muršak scored tonight a decisive penalty for his team to finally take two points from another away team except Zagreb.
Grabner is skating around, and Nodl is enjoying sweet alpine air. His team did take 5 points in three games but who cares anyways.
The guy who I like in Vienna (one of few) is this guy:
Philip Pinter. Nice guy, nice mustache and great twitter feed. Follow him @85fipo. And he owns twitter feed of Caps. A real spirit of the team.
What else? Ljubljana did a Teddy bear toss. Barely scored a goal. Did throw roughly 7,5k stuffed animals on the ice, almost two per person at the game.
Dustin Jeffrey (Pittsburgh Penguins/Medvescak) scored a goal and started a Toss in Zagreb
Two days laters Bears did the Teddy bear toss. Barely scored a late game goal. 5 thousand something stuffed animals hit the ice, which means less than one per peson in the hall that day. Maybe it'll get better. Or the guys will do some more original activities. But it looked cool though. Really cool.
And now... the conclusion
I've started this post with a thought about players I've been wanting to see on ice in Zagreb for past four years. There are few I've had luck of seeing, and some a luck of calling friends and working with them for a while.
The list would become a standalone club if all the guys came over. Few of them are "wet dream" of every Zagreb fan, yet, we've seen a few of them ending careers instead of coming over. One of these guys is Victor Oreskovic.
Victor Oreskovich during glroy days
Vic already had a break in 05/06 and 06/07 after not reporting to AHL camp. This fall he considered going to KHL, hoped of playing a role other than checker and gritty boy in NHL, thought about big money and finally decided to sell insurance. Wow Vic, thats a promising career. From an NHL player (even though you're a 4th liner) to a insurance guy. Hope you like it, but the world is really big and I'm sure a step across the pond (you see what I did there?) would be the right one. Good luck.
Daniel Vukovic
Then there are many other players who fans would like to see over. Phil Oreskovic (without H) is playing in East Coast this season. He would be an okay addition but D part of the club is really strong this season. Also, Mark Popovic is the guy to look out for in Langnau (NLA), Mark Katic (Berlin), Travis Hamonic (NYI - a real wet dream of a few guys I know), Daniel Vukovic, all on D. With these guys Medvescak could take a shot on KHL though. That would be a fun team to watch. And listen to curse.
Maybe its time to get some lottery money and start a team. Should work like a charm. Or does anyone got a rich uncle?
Until next time, stay fit, watch hockey, keep your feet moving and head up high.
P.S. Anyone seen Stewart or Simmonds lately?